Going native in the garden is a good idea for multiple reasons. First, native plants are better suited to your growing environment. They grow well in the soil, temperatures, and rainfall that you have. Second, some native plants out-compete invasive species. Invasive species can create a dangerous monoculture of undesirable plants that damage the ecosystem in multiple ways (erosion, outcompeting important plants, attracting pests, increasing fire risk, clogging waterways and more). Third, native plants support the ecosystem and help your part of it remain in balance with the surrounding areas. This can be especially important if you live in an area adjacent to forests or other naturalized areas. Non-native plants, even if they aren't invasive can jump the perimeter of your property.
Sound complicated? It's not really and there's a great organization that helps landowners in Thurston County. The Thurston Conservation District promotes non-regulatory and voluntary stewardship, a fancy way of saying that they help people do the right thing on their property. The Thurston Conservation District has been around since 1947. A conservation district is a legal subdivision of state government that administers programs to conserve natural resources. These conservation districts exist in almost every county in the United States. Their services are free and they are committed to meeting the needs of local land-users for the conservation of soil, water and related resources.
To aid in conservations efforts, the Thurston Conservation District holds an Annual Native Plant Festival & Sale the first weekend of March each year. The 2018 sale will be Saturday, March 3  from 10 am – 3 pm. This is a great opportunity to purchase low-cost native plants for your yard.
You can also pre-order plants online until January 31 and pick them up the day of the sale.
Learn more about the Thurston Conservation District and the goals of the TCD in their strategic plan. It has some pretty interesting data if you want to learn more about Olympia and land use over time.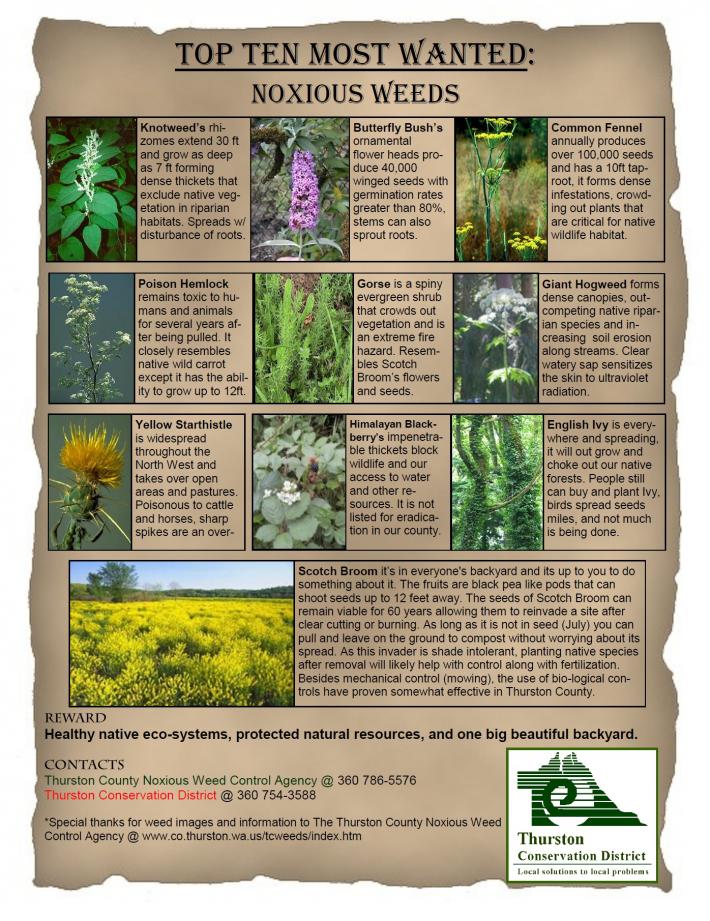 It's a good idea to familiarize yourself with the list of plants that are considered noxious weeds in Thurston County. If you have any of these on your property, I urge you to remove them and replant with native plants. We are doing battle with the dreaded blackberry in our yard. I think we can get the rest of it out this year.
Love your town.
Love,
Oly
---
Today's weather: Drizzly and a little gloomy but warmer with temps in the mid-50s. The rain backed off long enough for me to help fill potholes on our gravel street and I was able to clearcoat the little library and its post AND I filled our green barrel with all of the little branches that came down in the wind over the last several days.